Vinyl Transfer
Rare vinyl, cassette, or 8-track recordings can be restored and preserved on CD using digital technology. Scratches, pops, hiss, and other noises can usually be reduced or removed completely. Poor quality recordings can often be improved with digital mastering techniques. You can hear scratch, pop, and noise reduction demo tracks on my Gallery page.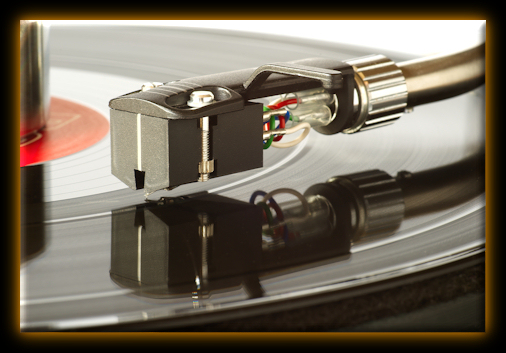 Tape and vinyl transfers seem to be pretty predictable, so I have established a rate of $20 per record or tape, plus $1.20 per minute of material to be recorded. Transfer of a 45 minute recording will cost $74. Other companies offer transfers for $45, but scratch and pop removal will cost another $15, track list is $5, etc. I do not offer "optional services" for transfers. I simply offer my best work on every recording. Careful cleaning of your records and playback on high-quality gear will ensure great results at a reasonable price. I will record your material, do whatever cleanup and enhancement I can without degrading the original material, provide a CD on quality media with titles and track times printed directly on the CD, and standard Jewel case. Return shipping will be charged at cost.

A quality transfer is always guaranteed or no payment is due. Quality of restorations cannot be guaranteed because the results can vary widely depending on the quality of the original recording. I will do the best I can, and if I feel the results may be less than spectacular I will provide you with an "unretouched" copy along with the restored version. I have yet to get a record I couldn't restore, but there are limits.